Bremain in Spain has been campaigning since 2017 for the repeal of the fifteen year rule which has prevented UK citizens living overseas from being able to cast their vote in UK elections. You can read the history of UK overseas voting in the House of Commons Library. Click the link to our Votes for Life Facebook Page or here to read more about our campaign.
Most Western democracies allow their citizens living overseas to vote in elections with the exception of the 'Mother of Parliaments', but that is about to finally change. Since the 2010 General Election and each subsequent election, the Conservative party have pledged to repeal the fifteen year rule and provision was made in this year's Budget in March – you can read more about that here. In yesterday's Queen's Speech, as part of the Electoral Integrity Bill, the commitment to remove the fifteen year rule was announced. You can read the briefing notes here.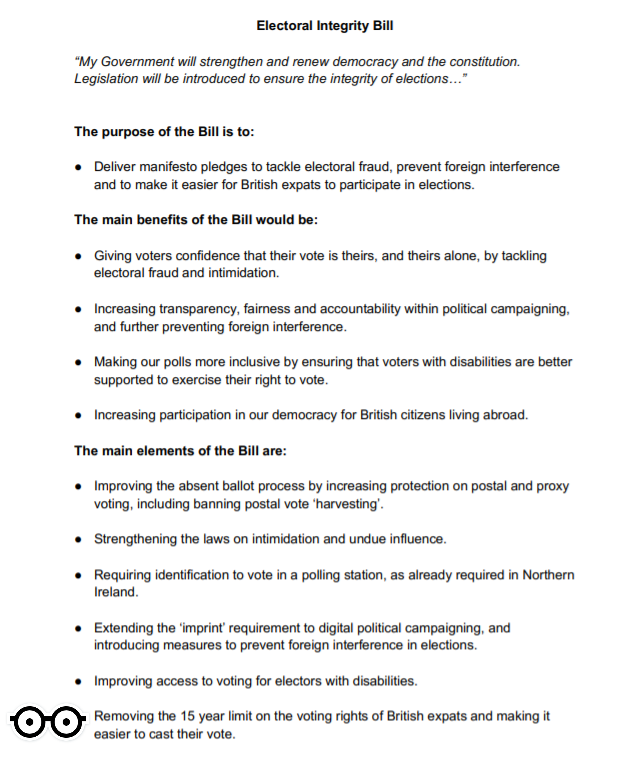 This means that the Bill should pass through Parliament in this current session but it is likely that some MPs will try to amend the Bill to prevent the return of voting rights. We therefore cannot sit on our laurels and expect it to pass without opposition. The Bremain team over the next few weeks will be planning how to ensure that we can equip you with as much information that we possibly can, along with some useful tools for you to use when lobbying your MP or the MP in your last UK constituency. This page and our Facebook Page will be updated so keep an eye out for further information in due course.
Our Chair Sue Wilson has just published an article for Yorkshire Bylines about the Electoral Integrity Bill which you can read here.
Meanwhile, here are some links to the Votes for Life announcement in the media: