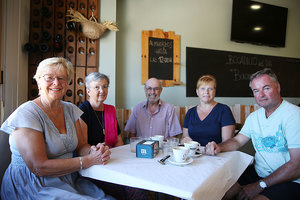 A couple of years ago, Teresa and Kim Sawdy moved from England to Spain to take an early retirement.
Drawn by the beautiful nature, welcoming population, quality of life, and lower costs, they bought an apartment in this sun-kissed town on Spain's southern coast. Ms. Sawdy first volunteered at a local dog shelter and today teaches English as a foreign language; Mr. Sawdy enjoys his free time.
But like many other Britons living in Europe, the couple say their lives have gotten more difficult because of the fallout over Brexit. They say that with the administrative hurdles they are encountering, it feels as if Brexit had already happened.
Now Mr. Sawdy worries he could have to go back to work, and Ms. Sawdy says she doubts she will "ever get a pension from England."
From small seaside villages on the coast of Spain, where older British expatriates have found a sunny slice of paradise to retire, to larger cities where younger ones have found a viable professional base, to the European Union more broadly, Brexit and its implications are viewed with genuine concern, if not always great clarity.
Uncertain rights and protections
With the United Kingdom scheduled to leave the EU on Oct. 31, British Prime Minister Boris Johnson and EU negotiators agreed Thursday upon a last-ditch deal on the terms for Brexit. But Parliament still must approve the deal in an extraordinary session on Saturday, and the prospects for success remain uncertain. Should the vote fail, Mr. Johnson would be obliged under the law to seek an extension from the EU – something he has said he would obey, while also promising that the U.K. would leave the EU on Oct. 31 no matter what.
Full story in The Christian Science Monitor