Bremain Council Member Elspeth Williams was invited to a People's Vote thank you event for pro Remain activists. Here's Elspeth's story about her day in London and the event itself: "It's not every day you're invited to Westminster! So we were delighted when Bremain in Spain received an invitation from the #PeoplesVote campaign, Britain for Europe, and European Movement to attend a 'Thank you' event for activists on 5 June. I was lucky enough to be the only Council member available to make the trip, and I was really excited to be able to attend.
I travelled out of Perpignan Airport in France, since I live in Northern Catalonia about equidistant between Barcelona Airport and Perpignan, and I always find it particularly poignant to be leaving Perpignan on #StopBrexit business. When I arrived in London, I first stopped by to say 'Hi' to Steven Bray (see below). It's always exhilarating to pay Steve a visit at his permanent SODEM installation outside Parliament, where he protests against Brexit on a daily basis. He's always good for a chat on the latest developments, but constantly keeps an eye on passers-by as he waits to tackle MPs with a simple question: 'How will Brexit benefit me?' Needless to say, a good answer to this question is a rare thing.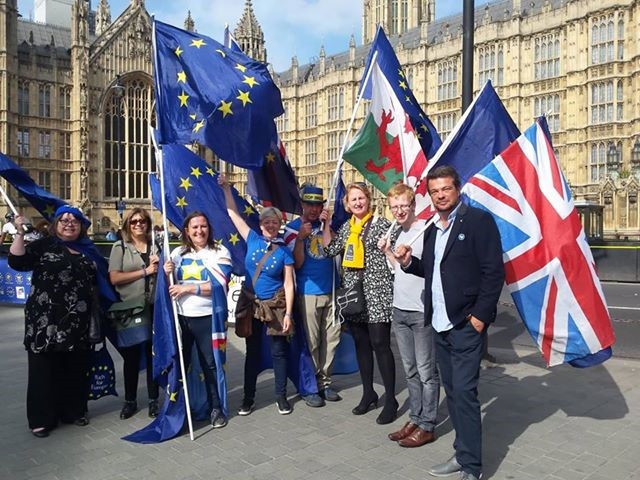 It was also lovely to meet Anne Juliff (@patanna) at last – a young campaigner from @Valleys4EU. Other people gathered in advance of the event included Mark from @stratford4eu, Sally from @BathforEurope, and Polly (@RemainingKind) from @Hereford4EU.
We made our way into the Houses of Parliament early, since we had been warned that the security queue can be lengthy. Security measures are tight, of course, but the staff could not be friendlier or more welcoming. One security guard even asked another campaigner, 'Do you think you'll be able to stop it?' No prizes for guessing the answer! The official dress code is 'smart casual'. Jeans are OK – but preferably not trainers. T-shirts referring to Brexit had to be covered up or turned inside out, but EU stars were allowed, and Sally from Bath felt like a rebel wearing her fabulous beret!
Walking towards Committee Room 10 for our meeting, we had time to look around. The name 'Palace' of Westminster seemed apt, since the building is impressive in its beauty, and packed with statues and sumptuous works of art. Even the toilets are worthy of high praise!
The atmosphere, however, is surprisingly relaxed, and all of the security guards we came across were friendly and helpful. At a certain point, photos are no longer allowed (in the circular hall where you see MPs being interviewed on TV, for example). As we waited in the corridor outside Committee Room 10, we spotted Ken Clarke ambling along, deep in thought, and took the chance to thank him for all of his hard work.
Soon, we entered the room, which quickly became packed with campaigners from all over the UK (and Spain!) – all of them focused on stopping Brexit. The host told us that we'd been invited because we were the people who actually put our foot down and said 'No!' to Brexit. The session aimed to thank us for our work whilst promoting the People's Vote campaign to give the British public a say on the negotiated Brexit deal. It included a Q&A session with MPs Caroline Lucas, Tom Brake, and Chuka Umunna (Anna Soubry sent her apologies as she was unable to attend at the last minute).
The MPs were frank and generous in their replies – there was no political rhetoric to be seen. The general message was that gaining a people's vote is now the best way forward to stop Brexit. Even though referenda can be flawed, the people started this process and must finish it – with a final say on the Brexit deal.
The challenges ahead were not understated: The need to convince Leavers that they should be able to change their minds and that Brexit will not improve their lives. The need to take the campaign out into the community.
All in all, the session was productive, energising, and another reminder that the #StopBrexit campaign belongs to all of us. Now is the time to act and truly own that campaign."