At the Conservative Party conference on Monday, Lord David Frost, chief Brexit negotiator, made a speech to a "pretty empty hall", writes Bremain Chair Sue Wilson MBE for Yorkshire Bylines. In his speech, Frost claimed that Britain was entering a "renaissance" and promised to show "Brexit was worth it". He didn't say how long we might have to wait.
Lord Frost threatens, again, to ditch the Northern Ireland protocol
Shortly afterwards, the media was full of articles that, at first glance, could have been written weeks or even months ago. Not for the first time, headlines spoke of threats to ditch the Northern Ireland protocol and trigger article 16.
Frost (emotional about his role freeing Britain) and gets round of applause when threatens to trigger Article 16 of Northern Ireland Protocol. /2

— Peter Foster (@pmdfoster) October 4, 2021
According to FT journalist Peter Foster, Frost's threat to trigger article 16 received a round of applause from the undersized audience. Perhaps they were old enough to remember it from earlier speeches and were enjoying a touch of Brexit nostalgia.
Frost also suggested the EU needed to make "significant changes" to the deal negotiated by (checks notes), Lord Frost himself:
"If we can agree something better, we can get back to where we wanted to be – an independent Britain with friendly relations with the EU based on free trade. But we cannot wait forever. Without an agreed solution soon, we will need to act, using the article 16 safeguard mechanism, to address the impact the protocol is having on Northern Ireland. That may in the end be the only way to protect our country – our people, our trade, our territorial integrity, the peace process, and the benefits of this great UK of which we are all part."
The Brexit deal U-turn
We have grown accustomed to Frost, and Boris Johnson, having a complete change of heart about how wonderful, or terrible, the deal they negotiated back in December 2020 turned out to be. What was new this time was that, apart from everything all being the EU's fault, now MPs must share the blame.
Apparently, it was MPs that forced Frost to negotiate a bad deal by passing legislation in 2019 – described as the "surrender act" – preventing a no deal scenario. According to Frost, "of course we wanted to negotiate something better". Strange, but there seems to be no reference anywhere to Frost pointing out the shortcomings of his deal when selling it to parliament, or the public, back in 2020.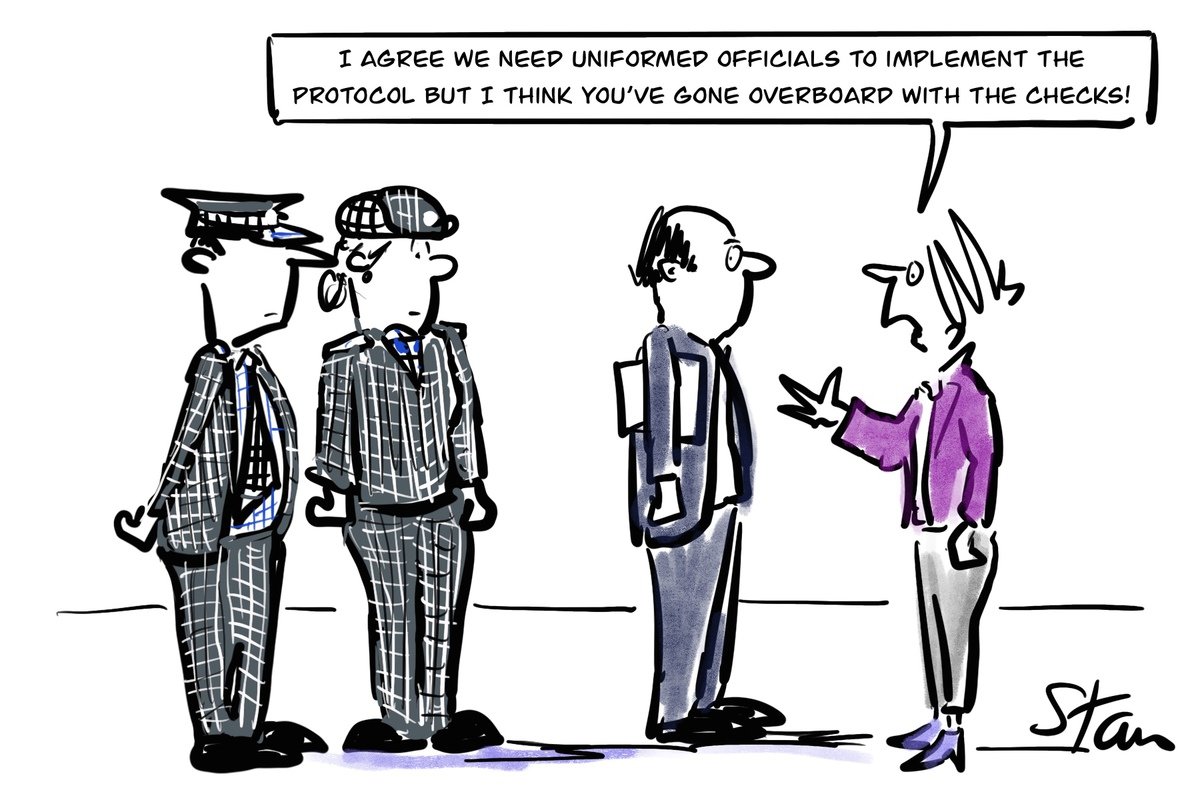 Frost continues to insist the EU is interpreting the Brexit deal in a "heavy handed" fashion. Moreover, he is still harking back to his 'command paper' demands from July, despite the fact that they proved unworkable then, as they do now. Frost also suggested the EU had failed to respond to his earlier proposals, despite a prompt response from European commission president, Ursula von der Leyen. Her reply was short and to the point: "we will not renegotiate".
As Frost waits for "a formal response from the EU", he urged them "to be ambitious", adding that it was "no use tinkering around the edges".
EU response to Frost's threats
Following Frost's speech, a spokesperson for the European commission commented:
"You will not be surprised to hear that we do not comment on the sayings or the statements of our partners or any stakeholders, whatever nature they have and however lyrical or aggressive they may be. We are not going to depart from that position in these specific circumstances at all."
Despite the EU-bashing rhetoric we associate with Frost, he was once a Remain supporter. Back in 2016, Frost was tasked with presenting the Remain side of the EU referendum argument in a debate organised by think tank, Open Europe. Whether he believed his own arguments at the time, or believes them now, we may never know. Whether the British public will believe him may also be open for discussion.
What we can be sure of is that EU member states know grandstanding when they see it and will not be impressed. They will make every effort to be as flexible as EU rules allow, but will stand firm.
Frost may now say the "long bad dream" of EU membership is over, but for those suffering the damaging after-effects, it is Brexit itself that is providing the nightmares.
Lord Frost told the Tories today that "the long bad dream" of EU membership is over

Well, we can now only dream about petrol stations which are open, supermarket shelves which are full, and governments which regarded it as their job to make the country better not worse!

— Andrew Adonis (@Andrew_Adonis) October 4, 2021