EU law is not bad for our health and safety – unfortunately, the same cannot be said of our government, writes Bremain Chair Sue Wilson MBE for Yorkshire Bylines.
Of all the dangerous, anti-democratic pieces of legislation brought forward by our government since Brexit, one of the most controversial is the retained EU law (revocation and reform bill (REUL). Better known as the Brexit freedoms bill, the supposed freedoms the bill claims to proffer seem as elusive as any so-called Brexit benefit.
"A Bill to revoke certain retained EU law; to make provision relating to the interpretation of retained EU law and to its relationship with other law; to make provision relating to powers to modify retained EU law; to enable the restatement, replacement or updating of certain retained EU law; to enable the updating of restatements and replacement provision; to abolish the business impact target; and for connected purposes."
Brexit freedoms bill
The bill was introduced by former prime minister Liz Truss, during her brief stint in Number 10. It is sponsored by staunch Brexiter Jacob Rees-Mogg and the Department for Business, Energy and Industrial Strategy (BEIS), and is currently making its way through the House of Commons.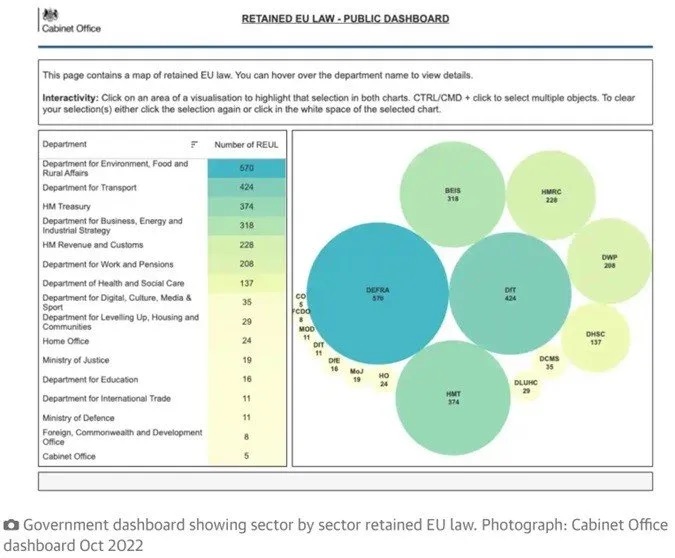 So much at stake
The aim of the REUL bill is to replace almost 4,000 EU laws currently on the British statute books. These laws provide protection for a wide range of hard-won protections including workers' rights, food safety standards, animal welfare, environmental protections and many more.
Although the government has pledged not to lower standards in the process of revoking and reforming EU law, it's increasingly hard to find anyone who takes that promise at face value. Especially when so many Brexit promises have already proven worthless.
According to the REUL public dashboard, 570 of the EU laws relate to the Department of Environment, Food and Rural Affairs; 424 to Transport; 374 to the Treasury; 318 to BEIS; 228 to Revenue and Customs and 208 to Work and Pensions. That's assuming, of course, that these government figures are reliable.
Up until the beginning of November, only 2,400 EU laws had been identified. A further 1,400 laws were recently discovered by government researchers. Although according to Rees-Mogg the additional laws were "ones departments do not use and were dredged up" and, he added, "removing them is simple".
In his own BEIS department, 77 full-time staff are said to be working on the 318 laws relating to that department alone. Whether the wider government has enough civil servants to handle so many EU laws is another unanswered question.
We need to organise to stop the insanely dangerous Retained EU Law (Revocation and Reform) Bill.

That this govt would open up this country to such dangers should see them chased out of office! https://t.co/8YQTtPsezY

— Liz Webster (@LizWebsterLD) December 5, 2022
Businesses already struggling
In a recent survey of company directors by the British Chamber of Commerce (BCC) there was little understanding of the government's proposals. Half of those surveyed said deregulation was either a low or non-existent priority, and just 4% claimed to comprehensively understand the bill and its impact on their business.
According to William Bain, head of trade policy at BCC, businesses "are not clamouring for a bonfire of regulations for the sake of it". He warned that divergence from EU regulations "would add to company costs" at a time when businesses were "already struggling with soaring inflation and other barriers to trade with the EU".
The fact that businesses are largely critical of the bill is being ignored by government. The party that used to claim to be the defenders of business and the economy, no longer seem to be claiming to protect either. The Tory party are no longer listening. Except to themselves.
World-leading idiocy:

"As part of the Retained EU Law Bill, the UK government is risking scrapping over a thousand laws that protect the environment, including those which protect wild places and wildlife, and ensure minimum standards for water quality and pollution."

— The Purple Pimpernel (@Eyeswideopen69) December 1, 2022
So much for health and safety
The latest strong criticism came from the British Safety Council. Chief executive Mike Robinson recently wrote that the government seemed "hell-bent" on destroying the UK's record on health and safety.
While acknowledging there are areas where legislation could be improved, Robinson said there were "big risks involved" with the government's approach. He drew particular attention to high-risk industries, like construction and chemicals. He expressed concern over the potential replacement of existing protections and with responsibilities being imposed on "duty-holders". He asked, "are we really going to leave it up to individual businesses to decide for themselves?" I guess that's one way to interpret "taking back control".
Robinson stated that the bill must be "changed or scrapped on the basis that it would be too damaging and risky to go ahead"
Not fit for purpose
The bill also gives the government the power to simply 'switch off' EU laws at the end of 2023 without consultation with parliament or the public. The so-called 'sunset clause' means that any EU legislation still on the books at the end of next year will simply expire. Along with all the protections, rights and standards that any such laws sought to safeguard.
The government's own independent assessor described government proposals as "not fit for purpose". With regard to the sunset clause in particular, the watchdog said the government had not provided sufficient grounds for the decision.
The battle isn't over
Although the REUL bill may have already passed the second reading in the House of Commons, its further passage is not expected to go smoothly. Many amendments are in the pipeline and there is likely to be fierce debate in the House of Lords.
But the battle won't just take place in the halls of parliament. Opposition is widespread with so many industries and sectors affected. From legal experts to unions, from environmentalists to farmers, from business leaders to economists, from human rights activists to health professionals – the opposition is as far-reaching as the rights that the EU laws protect.
Whether your personal passion is for one affected area – nature, animal welfare, food safety, human rights – or for all of them, this bill is damaging and dangerous. And completely unnecessary. The rights we have to work fewer hours, to eat safe food, to treat animals and the environment with respect and care etc., took many years to agree and to protect by law. We cannot allow this irresponsible government, driven solely by ideology, to undo all that work in one fell swoop.
If the government is successful, we will all pay a terrible price. And it's one that neither the public, nor the country can afford. EU law is not bad for our health and safety. Unfortunately, the same cannot be said of our government.