Events
Attend or support pro Remain events and rallies, held through the UK and Europe. Make a difference!
SODEM Daily Protest.
  Everyday Parliament is sitting there is a protest outside 11:00–18:00 UTC Hosted by SODEM (Stand of Defiance European Movement) Please come and join any day you can.
Venue: Old Palace Yard, London
, SW1P.  
See Event
No.10 Vigil Break Brexit before Brexit Breaks Britain. 
Monday and Wednesday 6.30 pm – 8.30 pm GMT (during the Parliamentary Year) During Parliamentary Recess and on many Fridays and Saturdays we also take our protest on tour to events and locations around London. We are there to be loud and visual ; everything from singing, music, chanting and public speaking to simply waving an EU flag.
Venue: Richmond Terrace, Whitehall, London
, right opposite Downing Street. 
See Event
The Great British Stop Brexit March Saturday 20 October 2018 10:00-16:00 BST
We shall celebrate the UK's place at the heart of the EU. Come and enjoy the UK and pan-European food and community stalls, enjoy the festivities and come together for the common cause. There will follow a very special speaker's rally, showcasing voices from around Britain and the continent, before uniting as one for a mass march upon Parliament. Organised by Reuniting Britain Ltd Venue: Westminster, London The event is free but please register in advance on the link below
March to the Tory Conference Sunday 30 September 2018 11:00-16:00 UTC+1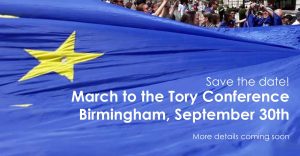 We will march and rally in Birmingham city centre to show them that we are Europeans and we want our voice to be heard. All eyes will be on Birmingham so we will get our message in the press that we oppose this Tory Brexit. Organised by EU IN BRUM and Peoples March Ltd Venue: The Priory Queensway, Birmingham
Go to Event
Brexit -What Next? – Friday 28 September 2018 18:30-21:00 BST
Our panel of specially invited politicians and national campaigners reflect local and national perspectives, different age groups and views on whether a People's Vote is a good idea.
Panel: Rt Hon Ken Clarke QC -Conservative MP, Rt Hon Anna Soubry -Conservative MP, Chris Leslie -Labour MP, Rt Hon Tom Brake -Liberal Democrats MP, Femi Oluwole -Our Future Our Choice. Eloise Todd -Best for Britain
Our moderator for the night John Hess, a former Political Editor for BBC East Midlands, will have his work cut out to keep order as we put our questions to the panel.
Organised by Nottingham European Movement
Venue: Nottingham Trent University, Newton Building, Burton Street, Nottingham NG1 4BU
This is a ticketed event but the tickets are free, book on the link below
Go to Event
EU Brexit Cafe: Amsterdam – Thursday 20 September 2018 18:00-19:30 CEST
My Life My Say is delighted to announce our partnership with the British Council Netherlands to host our signature Brexit Café in Amsterdam to give YOU a voice on how the Brexit negotiations should be shaped.
Organised by My Life My Say
Venue: De Balie, 10 Kleine-Gartmanplantsoen, 1017 RR Amsterdam, Netherlands
N.B. This event is strictly for under-30 only. The event is free but please register on the link below.
Go to Event
Brexit for Beginners: What Happens Next? – Wednesday 19 September 2018 19:00-21:00 BST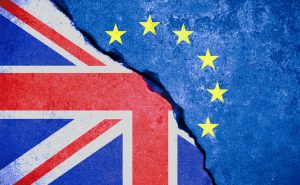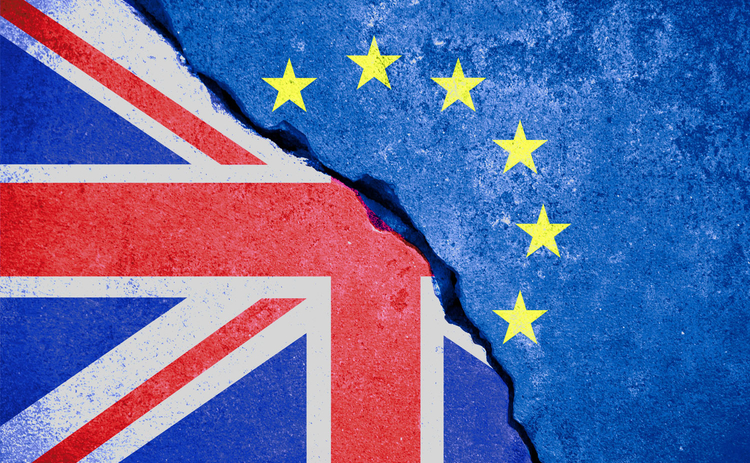 What is happening with Article 50? Did Vote Leave really break the law? Could this whole Brexit thing be called off? Join acclaimed Professor of European & EU Law Michael Dougan, for a fact fuelled talk on what exactly is going on with Brexit, and what is likely to happen next.
A talk by Professor Michal Dougan whose public engagement activities, including videos of his lectures before and after the 2016 UK referendum, received extensive public and media attention and he continues to be a popular authority on the matter for individuals and groups all around the world.
Organised by Funzing Talks Unlimited
Venue: 9 Century Street, Manchester M3
Tickets £12 book on link below
Go to Event
WILL A PEOPLE'S VOTE ON BREXIT HAPPEN? Tuesday 18 September 2018 19:00-21:00 BST
Anyone who cares about how Parliament is going to save the country from the greatest post-war threat now facing it from Brexit will want to know how realistic the chances are of a potentially game-changing People's Vote.
A talk by Brendan Donnelly followed by a question and answer session and light refreshments.
Since the June 2016 referendum Brendan has been a prolific speaker and writer about Brexit.
Organised by Stratford4Europe
Venue: Stratford-upon-Avon School, Alcester Road, Stratford-upon-Avon CV37 9DH
The event is free but please register on the link below
Go to Event
Where next for Brexit? Talk by leading anti-Brexit campaigner Tom Brake MP – Monday 17 September 2018 19:30-22:30 BST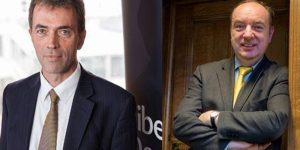 Tom Brake MP will be outlining where we are at in the Brexit process with particular reference to parliamentary politics. He will be analysing possible future destinations for Brexit including a 'no deal crash out' or an 'exit from Brexit' after a final say on the deal.
Organised by EUnity Lewes
Venue: The Elephant & Castle, White Hill, Lewes BN7 2DJ
Tickets £5.98 book on link below
Go to Event
Wales People's Vote Rally – Rali Pleidlais y Bobl Cymru – Saturday 8 September 2018 12:30-15:00 BST

Mynnwch Bleidlais y Bobl ar gytundeb terfynol Brexit // Demand a People's Vote on the final Brexit deal. The People's Vote campaign arrives in Cardiff.. rganised by People's Vote
Organised by People's Vote
Venue: Glee Club, Mermaid Quay, Cardiff Bay, Cardiff CF10 5BZ
The event is free but in order to gain entry you will need to RSVP and bring your ticket (printed or on a mobile device) on the day.
Go to Event
The Great Northern Stop Brexit Conference – Saturday 8 September 2018 11:00–17:00 BST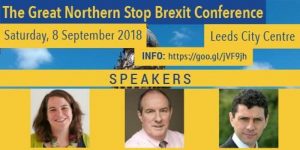 Creating a Vision of a New Britain without Brexit. Leeds for Europe and Stop Brexit Ltd believe that we need to create a bold, positive vision for the UK after Brexit has been cancelled.
Organised by Leeds for Europe
Speakers: go to the link below to see the long list of speakers, too numerous to mention here and many more details
Exact Venue TBA: Leeds City Centre, Leeds LS1 4DY
Tickets £10-£15 book on link below
Go to Event
Brussels March/Rally Wednesday 5 September 2018 16:00-19:00 CET
Two years on from the EU referendum and Britain is more divided than ever. The Brexit people voted for cannot be delivered without severe economic repercussions, as shown by every single government impact assessment. Time is running out and we need to stop Brexit before it causes permanent damage to our economy, society and reputation as a world leader. Hosted by Eunite Venue: Rue de Treves, 1040 Bruxelles, Belgium
WWW WorldWide Wednesday – Liverpool – informal international networking  Wednesday 5 September 2018 18:00-20:30 BST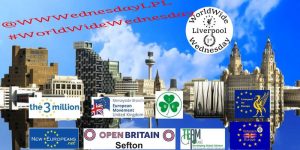 Find out how the EU benefits and protects you as we assess #StopBrexit and our #SharedEuropeanFuture
Organised by WWW Worldwide Wednesday
Venue: Avenue HQ, 17 Mann Island, Liverpool L3 1BP
Click on the link below for names of speakers and to register. The event is free with a cash bar.
Go to Event