Bremain in Spain Chair, Sue Wilson, spent a few days in the UK at the start of May 2019. Here is Sue's story of what she got up to!
8 May
My whirlwind visit to the UK started with a meeting with LibDem MEP Catherine Bearder, who has been a passionate anti Brexit campaigner since before the Brexit referendum. Catherine has been very supportive of Bremain in Spain, & citizens' rights issues, ever since we first met 3 years ago, so it is always a pleasure to catch up with her.
We talked about the forthcoming European elections & her current campaign to continue as an MEP, despite her involuntary retirement plans last March. Catherine spoke about the logistics of having to give up her accommodation in Brussels, not knowing whether she would be returning, & if so, for how long – a situation we can all empathise with, living in limbo as we do.
We also discussed Vince Cable's imminent retirement, & the prospective candidates for LibDem leader (my lips are sealed!). It seems likely now that Cable will remain until after the EU elections results. We wish the Lib Dems well on 23 May, & hope that the success of the local elections is replicated in Brussels.
A very pleasant hour spent enjoying a chat & an English cuppa & tea-cake. I hope to be able to reciprocate the pleasure sometime soon with a Belgian pastry or two in Brussels!
In the evening, I attended an event in the Palace of Westminster to launch the Let Us Vote campaign. The event was hosted by Another Europe is possible, British in Europe and the 3Million, who are jointly responsible for the project. The campaign aim is to restore voting rights to 10 million people who are disenfranchised & unable to vote – both Brits abroad & foreign-born citizens resident in the UK.
The panel was made up of representatives of the groups involved, but also Claude Moraes (Labour MEP), Alberto Costa (Conservative MP) & Lloyd Russell-Moyle (Labour MP).
The passion & commitment from all those involved in the campaign was a joy to behold, & the audience were very engaged, asking lots of questions. There was also an opportunity to talk to the panel on a 1-2-1 basis afterwards & to network with many dedicated campaigners.
Whilst nobody expects that the campaign will be easy, or quick, with the commitment & passion shown, we all came away very positive about the chances of success. We will keep you posted about future developments as & when they happen.
For more information on the Let Us Vote Campaign, click here.
9 May
To celebrate Europe Day, I joined many flag waving campaigners on the Golden Sunrise cruise ship for an evening trip along the River Thames. The Europe Day Boat Party was hosted by the EU Flag Mafia – best known for their flag bombing appearances at the Albert Hall Proms. Entertainment was provided by EU Supergirl Madeleina Kay, Faux BoJo & EU Elvis, though my fellow travellers did quite a bit of singing too.
We sailed past the Houses of Parliament to choruses of Bollocks to Brexit, Revoke Article 50 & Stop Brexit, & many passers-by stopped on the bridges to wave & cheer.
It was a colourful affair, with flags of every EU nation being waved on decks &, of course, many EU flags. Naturally the Bremain in Spain flag got a good airing too!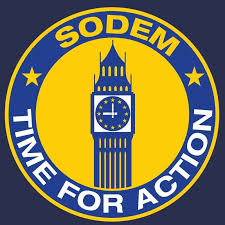 A good crowd of supporters turned up, & we all marched over Lambeth Bridge to congregate on the embankment, with a view of parliament behind us. Guy turned up in a coach with his entourage, made a speech – most of which I managed to get close enough to record – then spoke to Steve & was interviewed by the press. Steve then presented Guy with a goodie bag of SODEM memorabilia & thanked him for his support.
10 May
Thanks to an early heads-up from Catherine Bearder, I was able to change my plans & stay in London long enough to join SODEM & Steve Bray for their special visitor on Friday morning. Guy Verhofstadt was in London to campaign with Vince Cable & the LibDems, & had made arrangements to visit SODEM afterwards.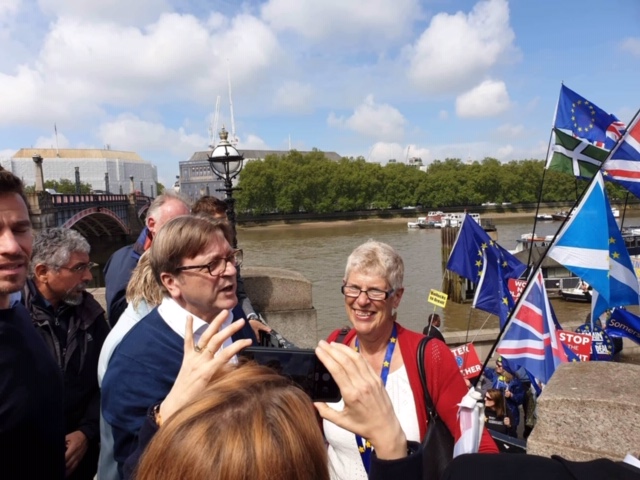 It was almost impossible to speak to Guy for all the press & security, but I was fortunate as he recognised me – we met last year on his birthday in Brussels. Never one to miss an opportunity for a selfie, I took full advantage & got a quick one! The things I do for Bremain!
Not sure when I'll next be back in the UK, but I'll sure there will be a few Brexit-related events over the next few weeks & months to draw me in. Someone's got to do it!
Your roving reporter – Sue Wilson