Sue Wilson, Chair of Bremain in Spain and now a Member of the Most Excellent Order of the British Empire, writes a further open letter to Boris Johnson in Yorkshire Bylines asking for his advice– you can read her earlier letters here.
Dear Boris,
It's been a while since my last letter, and I'm still hopeful of receiving a reply from you at some point.
I appreciate you have had a lot on your plate. Getting married, sorting out (or rather, not sorting out) your Brexit deal, Cummings' betrayal, wallpaper-gate followed by sausage-gate, being side-lined by the EU and not being President Biden's number one pal – must all take its toll on a world 'leader'.
Open letter to Boris Johnson
I've had rather an eventful time myself. I was named in the Queen's Birthday Honours list as a Member of the Order of the British Empire (MBE). Considering what I've spent my last five years focusing on – fighting your Brexit – nobody could be more surprised than me. According to the British Ambassador to Spain, he was asked to inform me by the secretary of state for foreign, commonwealth and development affairs that, "he proposes to submit my name to the Queen". This was equally surprising, considering Dominic Raab is such an arch Brexiter, and I'm, well, not!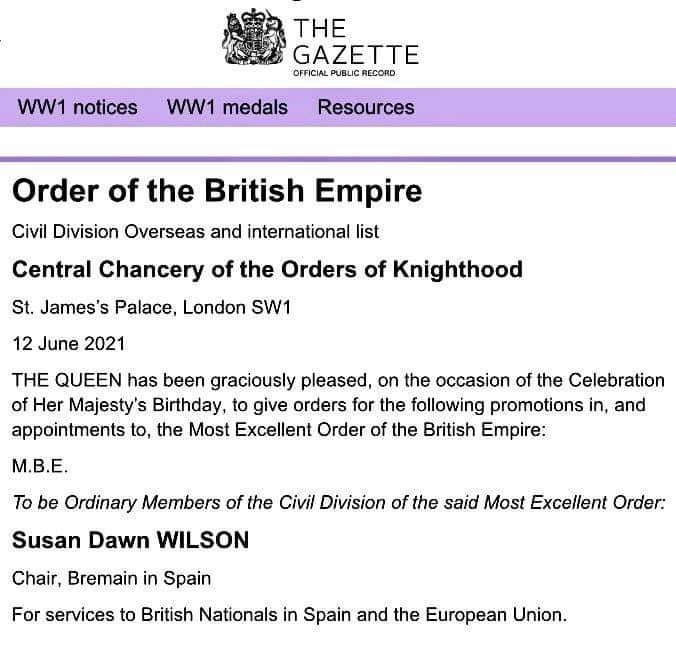 All this honours malarkey is new to me, but not to you, of course. So, I hope you won't mind if I pick your brains about the protocol. You have, after all, honoured many of your friends and donors, so I imagine this is one topic that you know more than a little about.
Questions about MBEs
Firstly, am I already an MBE, having been named in the list, or do I only become one once I've got the medal in my hands? If the latter, perhaps you could advise if there's a code of behaviour that I have to adhere to, to make sure I get the gong and title eventually. Do I have to be on my best behaviour until I meet the Queen? I would ask how I might go about doing that, but perhaps you're not the best person to comment on following codes of practice.
Secondly, am I part of the British Empire now, and what does that mean? Do have to get a flag to show off when I'm on Zoom?
I should probably warn you in advance that, once my MBE is confirmed, I will be joining the latest campaign to have the 'Empire' removed from the title and replaced with 'Excellence' – an easier task for a gong than for a country, I suspect.
Can I pay for an upgrade later?
I'm assuming, as an MBE is a lower-level honour, that this one is complementary. However, I would be very interested to know what the going rate is for an upgrade. I quite like the sound of a 'Companion of the Order of the Bath' or a 'Knights Grand Cross of the Order of the British Empire', if you have any spare, going at bargain rates.
I appreciate you're currently rather busy with saving the planet, charming foreign heads of state and looking dapper. Making such an effort must take an enormous toll, especially with the missus and latest offspring in tow. So, I won't hold my breath for a response.
But when you get a moment, please thank the two Dominics for me. One for spilling the beans and the other for supposedly knowing who I am. Please reassure Mr Raab that as he is so delighted with my anti-government, anti-Brexit and pro-European stance as to reward me for it, that the least I can do is keep on doing what I'm doing. Only more so. With knobs on. Big, shiny, metallics knobs, with ribbons on.
Yours sincerely,
Sue Wilson, Chair of Bremain in Spain and MBE (I think!)