In response to Nigel Farage's recent claim that Brexit has failed, Bremain Chair Sue Wilson MBE writes him an open letter to see if he's OK!
Dear Nigel,
Hope you don't mind the informality, but I feel as though we're old friends, as we share so many hopes and dreams for our great country.
The reason for my letter is that I'm rather confused by your recent suggestion that "Brexit has failed" and wanted to check that you were okay. After all, it's very unlike you to fall off the optimism wagon, especially when the evidence of Brexit's success is all around us. I accept that 'taking back control of our borders' has not quite gone to plan, but in the hands of those left-wing Tories, something was bound to go wrong.
There are numerous Brexit benefits, really!
Thankfully the list of Brexit benefits – border control aside – is a long one, and that is largely thanks to you. Would the government have been so successful at creating a culture war, without you getting the ball rolling? Would the UK have the strong, independent global standing it is now close to achieving, if you hadn't shown those lily-livered Tories the way? Would we have had so much Russian financial support for our Brextraction from the EU without your well-established connections?
As for the impact on trade and the economy, well anyone with any sense would have worked out that you can't make an omelette with breaking a few eggs (British, of course). Good things are worth waiting for, and if it takes a decade or three to reap the Brexit dividends, that's a price worth paying in my book. After all, who needs the old, sick, impoverished types who are nothing but a drain on our society? Send 'em to Rwanda I say with all the other wasters!
Clamping down on human rights
Brexit aside, I'm very glad to hear you speaking up for our darling home secretary, Suella Braverman. Despite her working tirelessly to try to resolve the record levels of 'illegal' immigrants trying to take the country for mugs, she's getting rather a bad press. Our PM, bless him, did try to offer his support, but he's almost as wet as those woke liberal types. Your backing will mean so much more to her, I'm sure.
I'm pleased, also, to see you backing the government's long overdue action on public protesting. Time to get these loud, lazy louts off our streets once and for all. Why aren't they at work, instead of causing trouble for our hard-working police officers?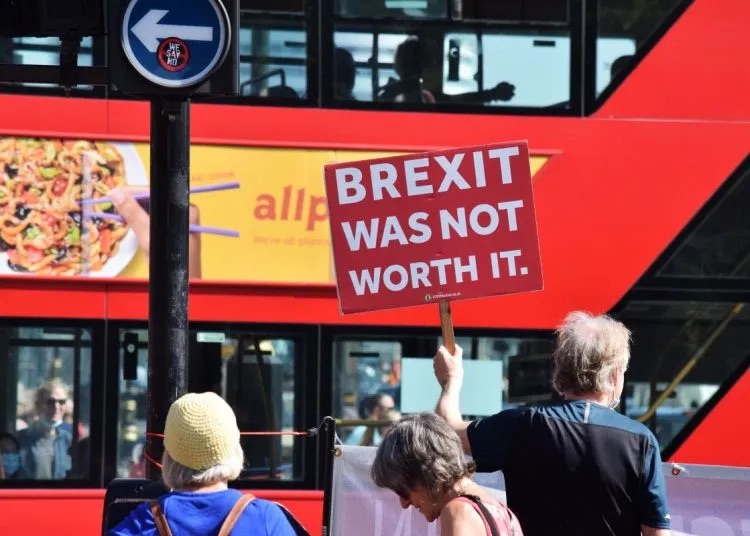 Not the Brexit we voted for
Anyway, I digress. Back to the reason for my missive. While I'm with you on protestors, illegal immigrants, the EU, climate change, the untrustworthy Tories and Phillip Schofield, I really wish you would withdraw your "Brexit has failed" comment. It just makes it too easy for Remoaners to grasp at non-existent straws.
I admit, the Brexit we ended up with is not exactly the one I voted for (though I'd never admit that to anyone but you), but it's still pretty bloody amazing in my book. Yes, I'm having to change my eating habits, but who needs fresh fruit and veg anyway? And queueing for holidays in Europe might be a little tiresome for now, but I've always rather liked Dorset. I'll be staying out of the sea, obviously.
So, might I be so bold as to ask, as a special favour, that you stop with the Brexit negativity and concentrate on all the positives? We may not – yet – have stopped the boats, but I'm loving our new-found nationalism and sovereignty, and there's so much to celebrate. No more being told what to do by Brussels. No more stupid laws stopping us from doing lots of things we can now do freely. (Sorry, can't name any of them but I bet you can!). No more Johnny Foreigners across the Channel acting like they're better than us, especially when we have plenty of our own British politicians willing to take on that role.
Please don't leave the country Nigel!
I'm sure, in my heart of hearts, that your comments about Brexit failing were an innocent slip, and one you perhaps now bitterly regret. How do I know? Well, many moons ago you were quite insistent that should Brexit fail, you would leave the country. You haven't, which proves to me that a man of integrity – like yourself – doesn't really believe Brexit has failed at all, else you'd be living it up on the Costa del Sol or the Cote d'Azur.
So, I can only assume it was a moment of weakness, likely caused by all those nasty Europhiles giving you a rather hard time. Well, I say, tell them to shove it where the British sun doesn't shine, and to get over it. They lost after all, and telling them so never gets old.
Keep up the great work and remember to stay positive. I'm sure everything will all work out absolutely fine in the end. I'll be keeping my English fingers and toes crossed that we both live long enough to see it.
Yours sincerely,
Sue Wilson MBE