All UK visitors to Spain (12 yrs+) must now prove they have been fully vaccinated. A negative covid test is no longer an alternative option, writes Bremain Chair Sue Wilson MBE for Yorkshire Bylines. Rising covid cases, and the recent arrival of the Omicron variant, are causing governments across the world to re-examine their safety measures. This is especially true of travel restrictions, in particular relating to countries with worryingly high daily case numbers. One of those countries, causing considerable concern is the UK. "From December 1, residents in the UK who travel for non-essential reasons will only be able to enter Spain with proof of full vaccination. This change does not affect: the under-12s, Spaniards, Europeans or their families, who will be able to continue traveling as before."
Although cases have been surging across Europe, Spain's numbers are so far relatively low by comparison, and the vaccination rate relatively high – Spain was the first country in Europe to vaccinate over 80 percent of its population.
Over the last week, according to Worldometers, Spain's new cases numbered 39,584, ranking 14th in Europe. The UK, by comparison, recorded 289,218 cases over the same period, beaten into second place in Europe only by Germany, with a worrying 349,762 new cases.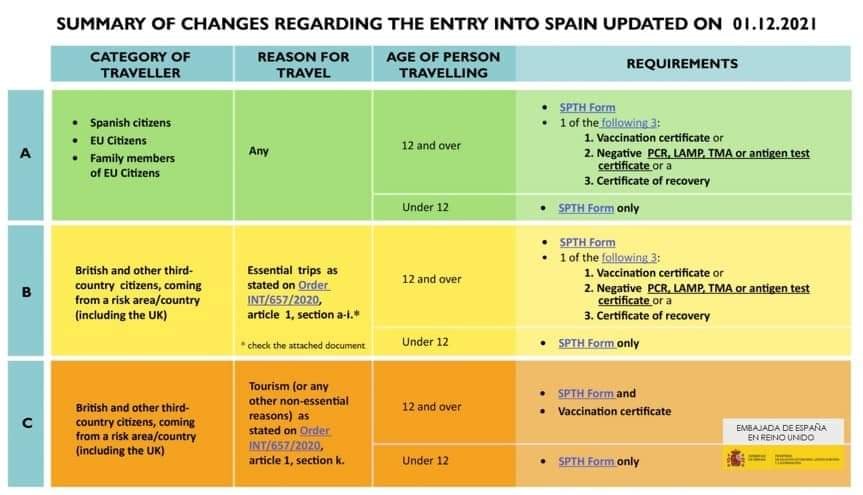 Travel to Spain from the UK
It is now a requirement for all UK visitors to Spain to prove they have been fully vaccinated. A negative covid test will no longer be an alternative option.
These latest measures in effect remove an earlier exemption that applied to UK visitors. Travellers from other third countries have been excluded from non-essential travel to Spain, unless double vaccinated, since 30 June. Now, the rules for UK visitors have been brought in line with those of other third-country nationals, over concerns around the new variant.
In an official announcement last Saturday, the Spanish authorities said, "the appearance of new variants forces us to increase travel restrictions. Consequently, together with other measures adopted by Spain's Ministry of Health, the exemption applicable to people residing in the United Kingdom will be cancelled".
The requirement for all visitors to complete a Spanish Travel Health Form remains in place. If you are planning to visit Spain, whether from the UK or elsewhere, you can view all the latest requirements on the Spanish Health Ministry website or on the British Government website
Vaccine requirements for Spain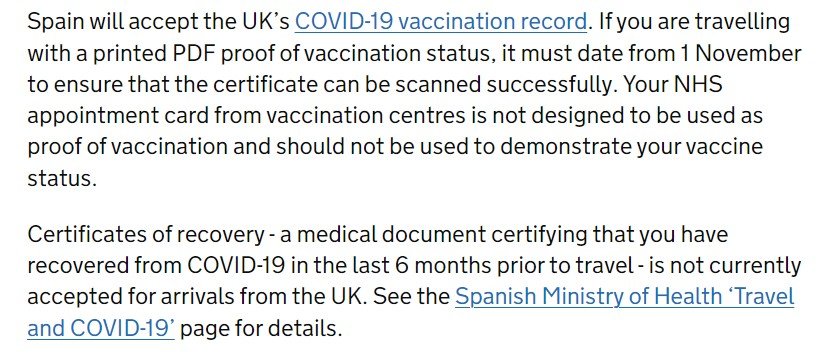 The new vaccine requirements apply to anyone aged 12 and over. Under 12s do not need vaccine certification, and can travel to Spain with fully vaccinated parents – Spain accepts the NHS covid pass. Fully vaccinated means either having received "both doses of a two-dose vaccine or one dose of a one-dose vaccine", at least 14 days prior to travel to Spain. Certificates of recovery, a medical document proving you have recovered from Covid-19 in the last six months, are also no longer acceptable. As children in the 12–15 year age group are only now being offered a second vaccine in the UK, the new rules will prevent them from visiting Spain for the next few weeks, and certainly for Christmas.
Given the level of concern regarding the Omicron strain, further restrictions, over the coming weeks, cannot be ruled out. Any further tightening of the rules is liable to affect third countries, including the UK, first.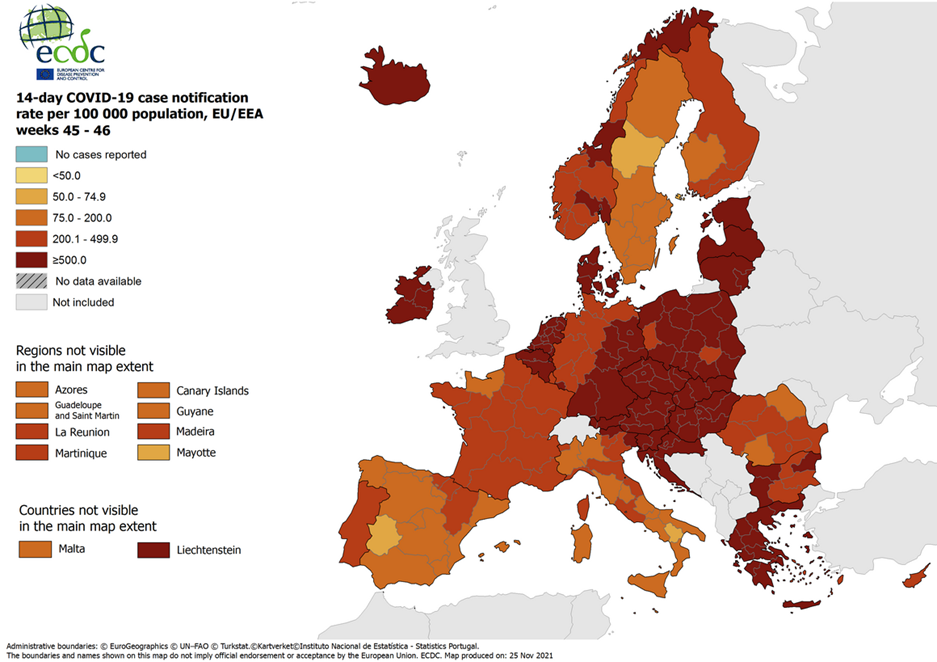 Travel to the UK from Spain
Effective from 30 November, anyone travelling from Spain to the UK will also be subject to new travel restrictions and safety measures. Lateral flow tests will no longer be accepted, but will be replaced by more reliable, and more expensive, PCR tests.
The PCR test must be taken by the end of day two of any visit – the day of arrival counts as day zero. Until a negative result is returned, visitors must self-isolate. Although, in theory, test results can be returned in a matter of hours, in reality, this could take several days. During isolation, you may only venture outside your temporary home in order to take a test, receive emergency medical care, or to buy essential supplies. Those items include food or medication, but only if nobody else is able to buy those items for you
Despite these new measures, it is permissible to use public transport to travel to your destination from airports and ports. Existing rules for non-vaccinated travellers to the UK still apply.
Any new restrictions will no doubt cause anger and fear, not least amongst families long separated and desperate for a return to 'normal'. How long these new measures will last, in both directions, or whether in fact may be strengthened further, is anyone's guess. In the meantime, we can only hope that the measures are successful in reducing the risk to public health, and that early action will prevent more extreme measures further down the line.
For those of us in Spain, who watch the actions, or lack of, from the British government, and worry for our friends and families' wellbeing, we can only but be grateful that the Spanish government take matters more seriously, and act accordingly.