After 10 years of operation, the Westminster Russia Forum, formerly known as the Conservative Friends of Russia, has suddenly disbanded, writes Bremain Vice Chair Lisa Burton. 
On 1 March, the Westminster Russia Forum, formerly known as the Conservative Friends of Russia, was dissolved 'immediately'. Should this pro-Russia group have existed in the first place?
As it becomes more evident that Britain's apathy, particularly from the Conservatives and the government itself, has enabled and encouraged Vladimir Putin and his regime, the group's work needs scrutinising. Not only so we can avoid similar mistakes in the future but also so intelligence services can conduct enquiries into the group's connections and funding to ensure no wrongdoing.
Conservatives have been complicit and complacent with the Putin regime
London is undisputed the global capital for Russians to launder money. In 2008, The UK government's golden visa scheme was launched to allow the wealthiest people a fast track to British citizenship. A mere £2m got you and your family settled status in five years. For the super-wealthy, a mere £10m got you and your family there in just two years. This visa scheme was of concern to many. The project was insecure with worries around the efficiency of checks made on origins of wealth.
Parliament's intelligence and security committee recommended in its Russia report, published in July 2020, that there should be an "overhaul" of the golden visa programme. Nothing happened.
A foreign affairs select committee report, produced four years ago, endorsed by Priti Patel as a backbench member, said ministers were risking national security by "turning a blind eye" to Russian "dirty money" flowing through the City of London. Yet again, the government took no action.
Priti Patel's role
Last month, however, Patel suddenly announced the golden visa scheme would end with immediate effect in a bid to help stop "corrupt elites who threaten our national security and push dirty money around our cities". Yet, she knew of the issues long before, so why only now?
One report examined the visa system between 2008 and 2015, a period in which 700 Russians gained residency. Yet, Patel and the government have consistently delayed its publication.
Then, there are the donations. There have been growing concerns regarding Russian oligarchs donating to the Conservative Party, and these donations have increased under Boris Johnson's premiership. Indeed, six oligarchs alone have donated £2m since Johnson became prime minister.
History of the Conservative Friends of Russia group
The Westminster Russia Forum, initially the Conservative Friends of Russia, was founded in 2012 by Richard Royal, a communication specialist for Ladbrokes. Its organisers and members often appeared on Russia Today, the Russian state-owned news channel.
The group then, and now, calls itself a think tank, but no published research exists. They are more akin to a lobby group; however, there is no requirement to register their activities or interests, no scrutiny or checks, so we are left guessing as to the scope of the work they did.
As reported by Open Democracy, Sue Hawley, the director of Spotlight on Corruption, stated:
"'Friends of' groups of political parties are alarmingly unregulated and provide a back door for unofficial lobbying, access and paid influence. It is high time that these groups were brought out of the shadows, adequately regulated and that the public can have far greater insight into how they operate and who is behind them."
Who is behind the group?
One of the group's initial organisers in 2011 was Sergei Nalobin, a diplomat suspected of being a Russian agent. He was the first secretary in the Russian embassy's political section and son of Nikolai Nalobin, a former KGB general, who left the UK in 2015. He wanted to build closer ties with the Conservative Party and, strangely, was interested in the rivalry between Boris Johnson and David Cameron.
The group launched at the Russian embassy in August 2012. Then minister John Whittingdale was the group's honorary vice-president. He attended the opening with then office aide Carrie Symonds, now Carrie Johnson, wife of Prime Minister Johnson.
Another founding member of the group was Matthew Elliot, chief executive of the official Vote Leave campaign. Whittingale was also one of six Cabinet ministers to favour Brexit during the 2016 EU referendum. There seems to be a specific correlation between many of Brexit's most prominent supporters, who are anti-EU yet enamoured with Russia.
Renaming the group
The original founder, Royal, persuaded Conservative MP Malcolm Rifkin to join the Conservative Friends of Russia. However, Royal publicly attacked Labour's Chris Bryant MP, a prominent Kremlin critic, by sharing a photo of Bryant in his underpants taken from a gay dating site. After this, Rifkin resigned, and soon the group fell apart, with many Conservatives distancing themselves from it. This was when the group reformed under the name of Westminster Russia Forum.
The forum categorically states it is non-political and focuses on trade, culture, and sport, but its role has undoubtedly helped give credibility and influence to pro-Russia lobbyists. It would have brought Russian funding into UK businesses and politics.
The forum's organisers are mainly London based, with business interests in Russia. The current chair, Nicholas Cobb, runs an energy communications firm focused on Russia and former Soviet republics. He has also appeared on Russia Today and is pro-Moscow.
The Westminster Russia Forum's events grew from having around 50 attendees in 2015 to having 170 in 2020 when it drew 47 speakers on UK-Russia relations. The group was overwhelmingly effusive on the need for strong ties with the Putin regime.
The group struggled to attract big Conservative names after 'underpantsgate' in 2012. Still, it hosted around 80 events and intended to hold its first in-person event for two years on 4 March. As the group was unregulated, the public never had access to its activities and fundraising information records. Some political figures like Lord Andrew Adonis are now calling for their records to be handed to police and sanction advisers. Surely this would be the right course of action for 'the national interest'.
"The Westminster Russian forum, previously "Conservative friends of Russia" which lobbied for pro Russia funding for cash for Conservative MPs & party operations is being wound up"

Its list of donors should be published and handed to the police and sanctions advisers

— Andrew Adonis (@Andrew_Adonis) March 5, 2022
Vitally important that Boris Johnson today give an undertaking that the Conservative Party will ensure that donor details of the "Conservative Friends of Russia", just wound up after raising tens of millions for the party, are not destroyed. Vital Ukraine sanctions data here

— Andrew Adonis (@Andrew_Adonis) March 5, 2022
Why the rush to dissolve the group?
When Russia illegally invaded Ukraine, the focus started to turn and look at the Conservative Party's relationships with Russian oligarchs and its seeming reliance on Russian donations. A spotlight has been shone on the Conservatives Party, which has taken millions in oligarchs' donations.
Johnson's relationship with Evgeny Lebedev, son of Alexander Lebedev, a former KGB agent, has come under intense scrutiny once again. Johnson awarded Lebedev, who had only received dual British citizenship in 2010, a peerage in 2020.
Intelligence officials raised concerns that granting a peerage to a Russian business leader posed a national security risk, but these concerns were withdrawn after Johnson intervened.
On a brief look back through the group's Twitter page, @WRForum, I didn't find anything too salacious, but it is uncomfortable. The reliance and amount of retweets from the Russian embassy is striking.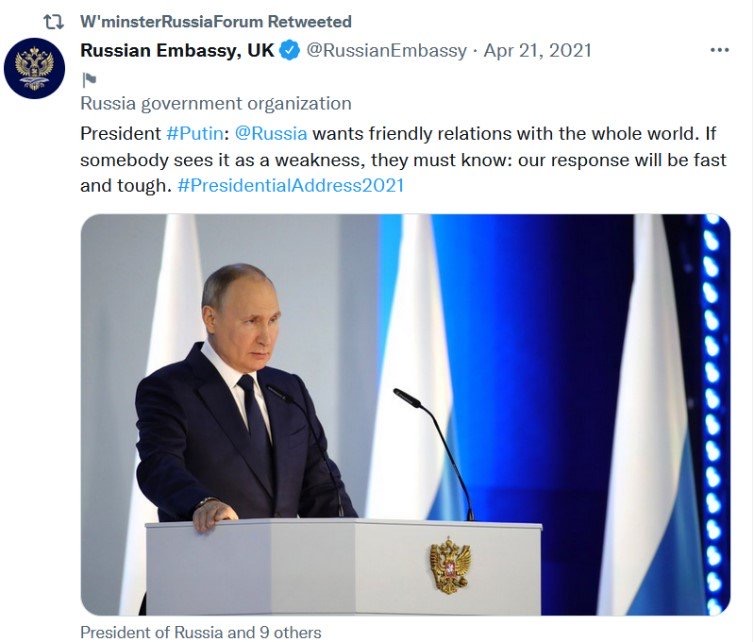 It oozes pro-Russian sentiment and only retweets views and accounts that echo the narrative that Russia is not the aggressor.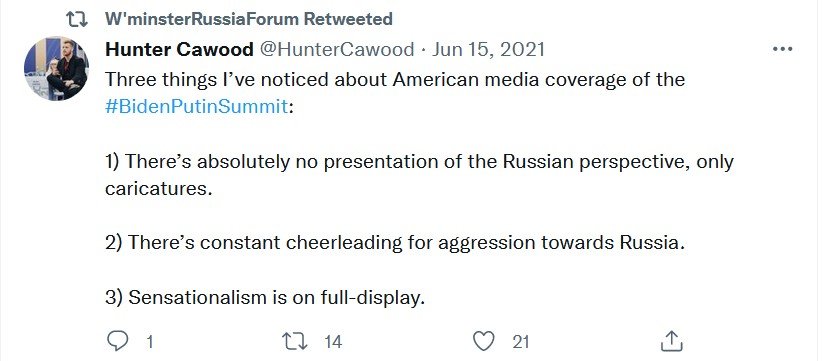 We need to learn lessons
We desperately need to bring in new laws to ensure transparency around the many subgroups, 'friends of', and lobbying groups that exist.
While Putin's invasion of Ukraine is undoubtedly a valid reason for a group that supports business and connections between Britain and Russia to disband, we must also consider that maybe knowingly or unknowingly, the group could have enabled dark actors and dark money to corrupt our political systems. If they have nothing to hide, the group should now turn over all documentation and information that it holds to sanction advisers and the intelligence services. Our democracy depends on it.