The second National Rejoin March heralds a turn of the tide that will bring the UK closer and closer to the heart of Europe, writes Bremain treasurer Helen Johnston for Yorkshire Bylines. 
Members of campaign group Bremain in Spain had a busy and productive weekend in London, attending, and speaking, at the second National Rejoin March and holding our annual general meeting.
On Thursday 21 September, Sue Wilson, Lisa Burton and other members of the Bremain in Spain Council landed in London for the start of a great weekend. Sue arrived by Eurostar from Brussels after visiting the European Parliament to witness the inauguration of 'Our Star', a symbol of friendship, unity and hope. The rest of us travelled from various parts of the Spanish mainland and islands for our first get-together in person for almost a year.
Annual general meeting
For our meeting on Friday we were joined by friends and colleagues from Volt España, the National Rejoin March, Save Freedom of Movement and Grassroots for Europe.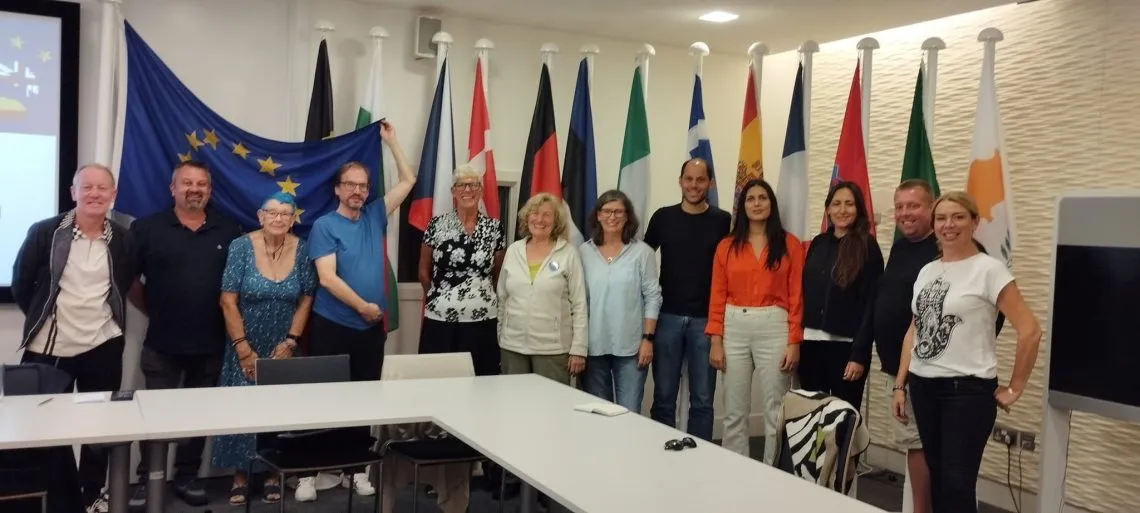 The Bremain Council was delighted to welcome those who took the time to attend in-person and online and took the opportunity to thank all the group's members for their continued support.
The big day
On Saturday 23 the sun was shining and the skies were blue when we set out to central London to meet up with thousands of Rejoiners from all over the UK and Europe for the second National Rejoin March. We greeted old friends and new as we assembled on Park Lane. The Bremain in Spain Council was joined on the march by loyal members including Keir Duncan, Tracey O'Rourke, and Trevor Perfect, and many others.
The march set off at 1pm, headed by the speakers carrying a banner declaring "We want our Star Back". They included our vice chair, Lisa Burton, and our friend from Volt España, Rachele Arciulo, who had travelled from Barcelona to give a speech at the rally. They were flanked by familiar faces such as the German Green MEP Terry Reintke, former Belgian PM and EU Brexit coordinator, Guy Verhofstadt, the great campaigner Gina Miller, and Mr Stop Brexit, Steve Bray.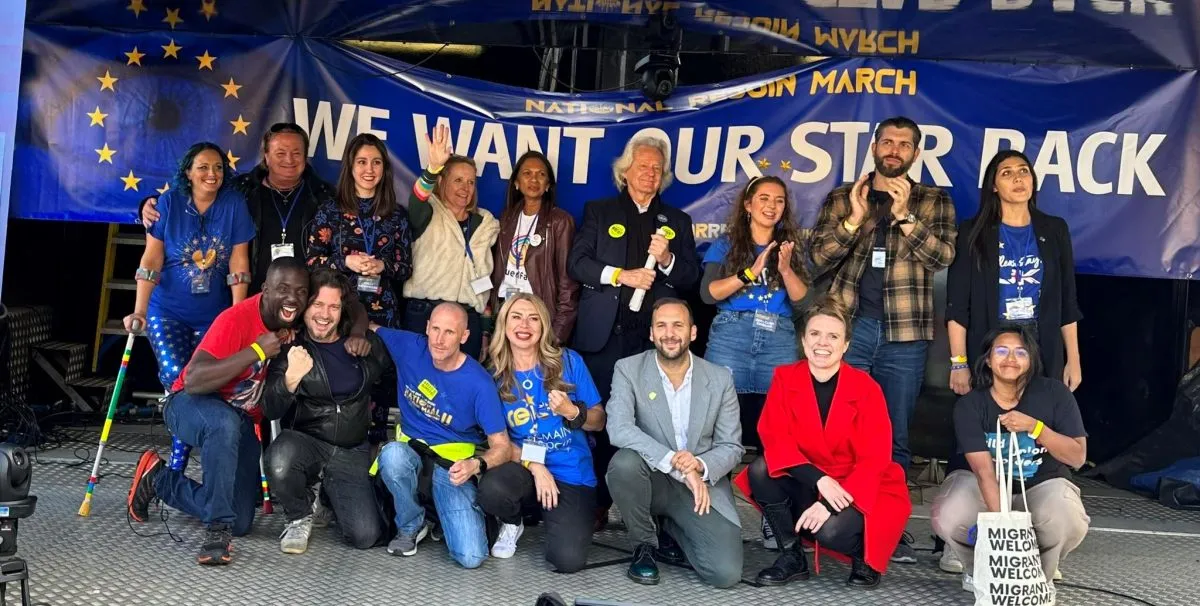 Behind them, marchers waved all the flags of the European Union. Our chair Sue Wilson proudly carried the Spanish flag, representing all of us British citizens in Spain, and Spanish citizens in the UK.
We wound our way along Piccadilly and Pall Mall to Trafalgar Square. A police source told organisers that the numbers were in excess of 20,000. The atmosphere was, as ever, joyful, with friendly waves from passing tourists and honks of support from taxis, buses and cars. In Whitehall we marched past a small but vocal demonstration by a handful of dog owners protesting the proposed ban on the XL Bully breed, a demonstration that was shown on the BBC News, while its reporters and cameras mysteriously failed to spot tens of thousands of Rejoiners filing past a few metres away!
Halfway down Whitehall we were greeted by 'Our Star', brought over just the day before from Brussels for the first leg of its trek around the UK over the next few months.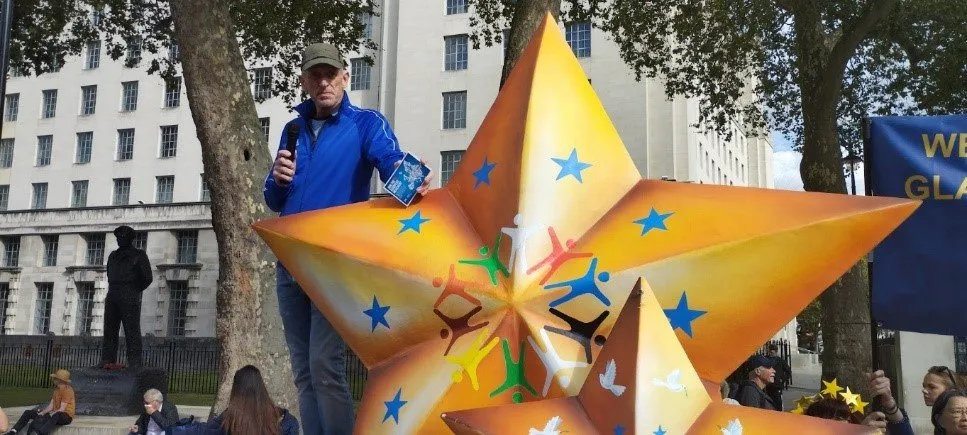 Inspiring speakers
The highlight of the day was, of course, the speeches in Parliament Square. The crowds cheered as Terry Reintke told us "We are still with you, we love you and we want you back", and the Green Party's Zack Polanski declared that "Brexit has failed".
Lisa Burton represented Bremain in Spain on the stage this year, and she did us more than proud. She spoke of how Brexit has affected the lives of those who took advantage of freedom of movement when we could, and of our pain that future generations have been denied that right:
"That freedom of just packing a suitcase, finding somewhere to stay, looking for a job, experiencing another culture, that dream has gone." 
Her heartfelt speech was roundly applauded as she explained that we campaign precisely because we are patriots, and she called on politicians to acknowledge that rejoining the EU is now inevitable.
"So, let's start talking about how we can get back into the heart of Europe. So British people will once again have the right to work, study, love, marry and retire across this incredible continent."
Also from Spain, Rachele Arciulo of Volt España, spoke of the need for unity among all Europeans, saying that:
"We should not wait for the UK to rejoin European institutions to strengthen our bonds. Instead, we must work locally to reconnect people with Europe. Sustainable development, resilience against climate change, access to quality healthcare, transparency, education: these are common aspirations that bind us together. This grassroots approach not only empowers our communities but also reminds us that we are not alone in our journey."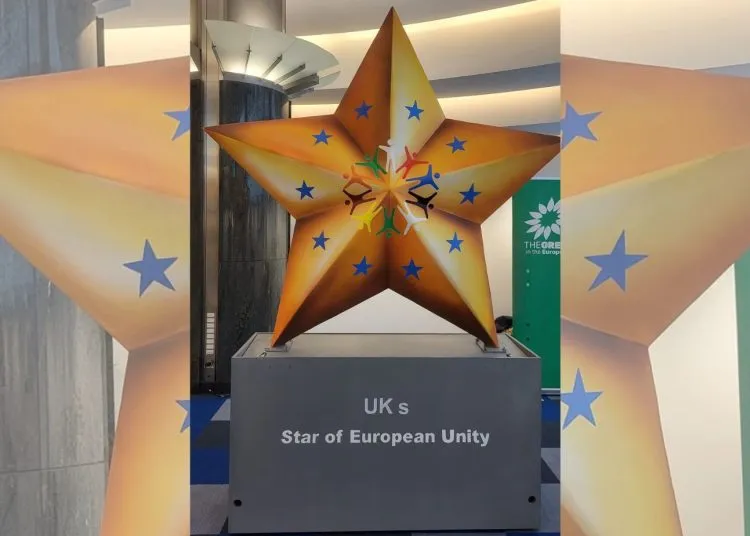 The future in their hands
Young people were well represented among the speakers. 21-year-old Ceira Sergeant expressed the frustration of those who were too young to vote when the referendum happened – those "who never got the chance to have their voices heard".
Other young campaigners included 2018 Young European of the Year, Madeleina Kay, who talked about the 'Brexiles' she met throughout Europe, who are trapped by the borders that prevent them moving on.
Stella Mavropoulou, a Greek student and activist who lives in London, said:
"As we look back at the decisions made in 2016, we must also look forward, knowing that our unity can transcend borders. It is not too late! We are more than our individual nationalities. We are part of a shared European identity. We stand for diversity, democracy and human rights."
The final speaker of the day was the courageous campaigner, Gina Miller, who said that:
"Brexit was a fantasy, and like all fantasies, we've woken up. People can see the effects in schools, in hospitals, in their supermarkets. This is no longer theoretical. The damage is everywhere. Brexit has broken Britain."
In the final words of the final speech:
"This is a fight for our future. Rise up and speak out and fight for our future. A future where we rejoin the EU."
The more they refuse to hear, the louder our voices
The star of the day, however, was undoubtedly the indefatigable NRM organiser Peter Corr. For the second year running he and his dedicated team of volunteers have worked tirelessly to make this event happen. He told us:
"It was another brilliant day in the Rejoiner calendar, with numbers bigger than the first march last year, despite some of the frankly ridiculous reports in UK media.  People from all around the UK attended, not least seriously dedicated groups from Scotland. We also had people come from our European neighbours, including the amazing crew at Bremain in Spain, one of whom, Lisa Burton, spoke at the rally and blew away the audience! It was an extremely positive and hope filled day and plans are now already underway for National Rejoin March III in 2024. See you all there!"