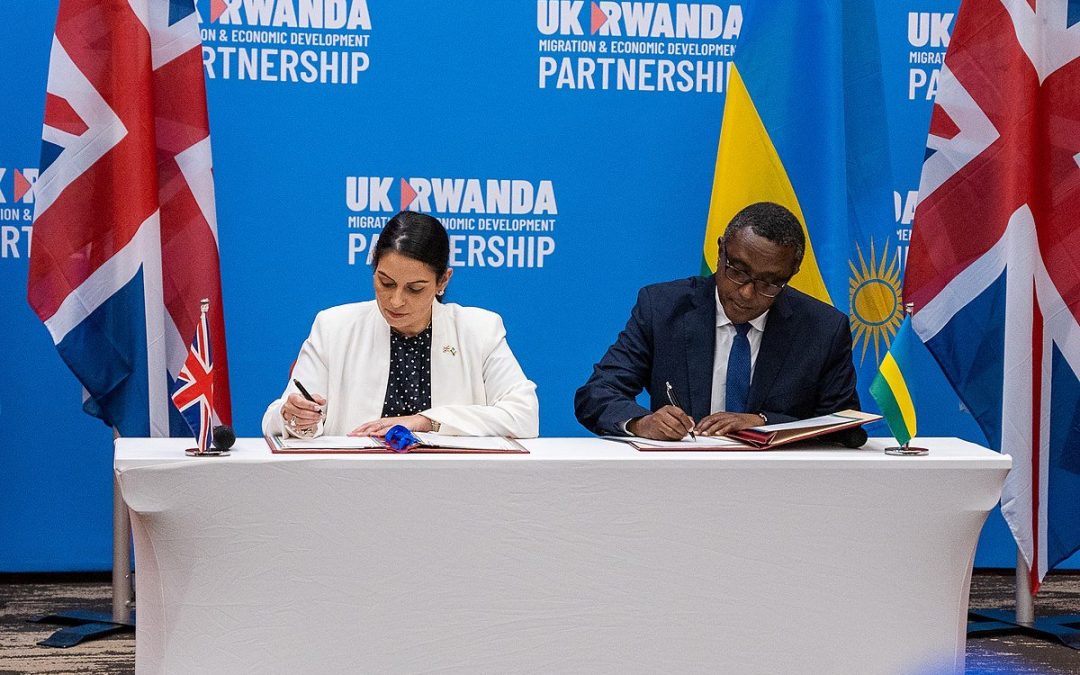 🇬🇧🤝🇷🇼 The UK has signed a world-first migration partnership with Rwanda that will:

✅ Deter dangerous and illegal journeys to the UK. ✅ Give migrants the chance of a new life. ✅ Set a new standard on asylum and resettlement. For all the details: https://t.co/pQb4StP4fo pic.twitter.com/RGkx2jjRdV — Home Office (@ukhomeoffice) April 14, 2022
Home Secretary Priti Patel described the "ground-breaking" migration and economic development partnership with Rwanda as "world leading". Without a hint of irony, she said that "fairness" was at the heart of their approach, asserting that "the British public have rightly had enough". She stopped short, just, of claiming this was the 'will of the people'.
Our new partnership with Rwanda shows we can no longer accept the status quo. People are dying and the global migration crisis requires us to find new ways to work in partnership. It will deal a major blow to the evil people smugglers. This is what it means 👇🏽 pic.twitter.com/J5RAynuGu7

— Priti Patel (@pritipatel) April 14, 2022
Widespread criticism of government's immigration plan
Criticism of the Rwanda plan has come from a variety of sources, not least from religious leaders who usually refrain from engaging in political arguments. Archbishop of Canterbury Justin Welby said the plan to send asylum seekers to Rwanda did not "stand the judgment of God", and accused the Home Office of "subcontracting our responsibilities". He was joined by Paul Butler, the Bishop of Durham, who said it was wrong to "punish those seeking asylum", adding that it was the traffickers "that need to be targeted and brought to justice for their terrible crimes".
The Jewish Council for Racial Equality issued a statement and wrote an open letter to the home secretary, condemning the "inhumane plans". They described the policy as "cruel" and an "abdication of responsibility". They urged the government to "protect, not punish, those fleeing conflict and persecution".
Lord Alf Dubbs – a former child refugee himself – warned the government of forthcoming problems in the House of Lords, saying, "they're going to have real difficulties in getting this through". He described the proposal as "a way of getting rid of people the government doesn't want", adding, "it's a breach of the 1951 Geneva convention on refugees".
Enver Solomon, chief executive of the Refugee Council said the government was demonstrating a "total disregard for the welfare of vulnerable people", and was "treating them as human cargo to be shipped to Rwanda and forgotten about".
The condemnation has extended even to the home secretary's own department, with civil service unions claiming there is widespread mutiny among their members. There have been threats of 'mass walkouts' following a rare direction from the home secretary to overrule civil servants' concerns.
Unethical, unworkable and extortionate
Labour Party ministers and MPs were quick to criticise the Rwandan policy as "unethical", "unworkable" and "extortionate". As well as pointing out the considerable cost, they challenged Patel's claims that the policy would have a significant impact on the numbers of refugees risking their lives to cross the Channel.
Priti Patel's Rwanda plan is extortionate as well as unworkable & unethical. Australian Refugee Council offshoring figs show 3127 people were sent to Papua New Guinea/ Nauru since 2013 at cost to Australian taxpayer of AUS$10bn. That's £1.7m per personhttps://t.co/UD2XJcZcxC

— Yvette Cooper (@YvetteCooperMP) April 14, 2022
The deal with Rwanda will supposedly cost the taxpayer £120m, though this is merely the stated price for an 'economic development programme' for Rwanda. It does not allow for the cost of a single asylum seeker being shipped abroad. As MP Stephen Kinnock pointed out, the policy in "unravelling quickly" as further details of the proposals emerge.
The Home Office has now admitted that the cost of Priti Patel's Rwanda deal is enormously high and there is no evidence at all that it will have a significant impact on Channel Crossings. This unworkable and extortionate policy is unravelling quickly.https://t.co/GQ8H1Ub5J4

— Stephen Kinnock (@SKinnock) April 16, 2022
Initially, it was assumed that those applying for asylum while being 'processed' in Rwanda would be returned to the UK if their claim was accepted. It soon became apparent, however, that the trip was one-way only. Any successful applications for asylum would mean being refugees being granted permission to stay in Rwanda, not being returned to the UK
Why do the media (even the broadsheets) keep talking about Tory Rwanda plans in terms of "processing" asylum seekers? Read the MOU text! It's a one-way trip. If they win the right to asylum, it will be to Rwanda. If not they will be returned to their departure point NOT the UK.

— Edwin Hayward 🦄 🗡 (@uk_domain_names) April 16, 2022
Another dead cat distraction?
Many have questioned whether the government fully intends to progress with its outrageous, inhumane policy or whether it is merely a diversion from various scandals. Certainly, the timing of the announcement is a convenient distraction from talk of the prime minister breaking the law, and the government does have form for this. We are quite familiar with its attempts at distracting attention when things aren't going to plan – whether that's covid, Brexit or the cost-of-living crisis.
As George Monbiot pointed out recently on Twitter, Johnson explained the dead cat strategy back in 2006. At the time, he described his "brilliant new strategy" as to "make so many gaffes that nobody knows which one to concentrate on", adding that it was like a "helicopter throwing out chaff".
Sending refugees seeking asylum in the UK to Rwanda is, of course, outrageous and disgusting. But that's the whole point of it. It's classic dead cat strategy, whose purpose is to channel our disgust away from partygate.

— George Monbiot (@GeorgeMonbiot) April 16, 2022
However, Monbiot did add the warning that, dead cat or no, that did not rule out the government's intention of following through with this policy. Anyone who has been following the Home Office's increasingly extremist strategies, even before Patel became home secretary, cannot doubt the desire to move further to the right.
Turning a blind eye
The Home Office claims that Rwanda has "strong experience in supporting and integrating refugees". It has praised the country as being "internationally recognised for its safety, strong governance, low corruption, gender equality". This is despite condemning Rwanda, just a few short months ago, for failing to investigate human rights abuses. Those abuses include the failure to protect and support victims of people trafficking. Today, Rwanda is already home to over 127,000 refugees, most of whom are living in refugee camps and unable to work.
The Home Office may be correct in its assertion that existing approaches have failed and that a new approach was necessary, but this is not it. Not even close.
Johnson obv thinks Rwanda refugee policy is political genius…guaranteed to stir outrage by "woke, liberal elites". But while it panders to anti immigrant base, has he considered it might also offend many trad Tory voters with humanitarian instincts?

— alexandra hall hall 🇺🇦🌻 (@alexhallhall) April 16, 2022
Johnson obv thinks Rwanda refugee policy is political genius…guaranteed to stir outrage by "woke, liberal elites". But while it panders to anti immigrant base, has he considered it might also offend many trad Tory voters with humanitarian instincts?

— alexandra hall hall 🇺🇦🌻 (@alexhallhall) April 16, 2022
Our government is turning a blind eye to human rights abuses in Rwanda while implementing abuses all its own. Where it claims to want to prevent people-smugglers from taking advantage of desperate refugees, it closes its eyes to its own plans to traffic vulnerable people abroad. As the government panders to right-wing xenophobes, it claims to do so in our name.
The Rwanda plan is NOT offshore processing of claims. It IS human trafficking. Our Govt effectively trading in vulnerable people. It is selling asylum seekers to Rwanda for them to work there.

— Mike Galsworthy 🇺🇦 (@mikegalsworthy) April 16, 2022
The welcome that's been extended to desperate, vulnerable people from Ukraine has proved the compassion and tolerance of the British people, unlike those who claim to represent them. The government, by comparison, has shown itself to be full of heartless, bigoted zealots. They think this approach makes them appear strong and in control, but it only demonstrates their misguided, insular and damaging attitudes. The rest of the world has its eyes wide open to the shameful truth. And so do the British public. The Rwanda plan will not work. Time for a change of heart, a change of mind and a change of government.