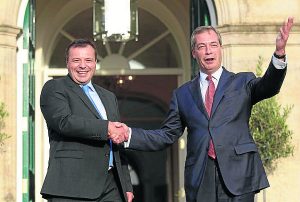 The High Court will rule as early as Christmas whether Brexit should be declared "void", in a legal case given a turbo-boost by the criminal investigation into Leave funder Arron Banks.
Judges are poised to fast track the potentially explosive challenge, after Theresa May's refusal to act on the growing evidence of illegality in the 2016 referendum campaign, The Independent can reveal.
Lawyers describe that failure as "absolutely extraordinary" – given the National Crime Agency's (NCA) probe into suspicions of "multiple" criminal offences committed by Mr Banks and the Leave.EU campaign.
Now The Independent understands the case is likely to move to a full hearing and a ruling within weeks of opening on 7 December, with the clock ticking on the UK's departure from the EU next March.
Both its lawyers and a leading academic believe its chances of success have been given a big boost by the unfolding scandal and the government's refusal to recognise the gravity of what is being exposed.
The government is expected to deploy Sir James Eadie QC – the star barrister who led the unsuccessful battle for the government to trigger Article 50 without parliament's consent – in a sign of the case's importance.
Read full article in The Guardian