On Sunday 15th April 2018, the People's Vote campaign officially launched in London, at an event attended by 1200 campaigners and  hosted by comedian Andy Parsons.
Speakers included cross-party politicians & actor Sir Patrick Stewart OBE.
The launch was preceded by a Day of Action, involving 1000s of campaigners & 350 grassroots groups, across the length & breadth of the UK.
The People's Vote campaign is a joint initiative from the Grassroots Coordinating Group (GCG) – a collection of 9 anti-Brexit organisations all now working together in shared offices in Westminster. These groups include Open Britain, Britain for Europe, European Movement, Scientists for Europe, OFOC! & InFacts.
Bremain in Spain are proud members of Britain for Europe & partners of European Movement, so we have a real stake in the campaign.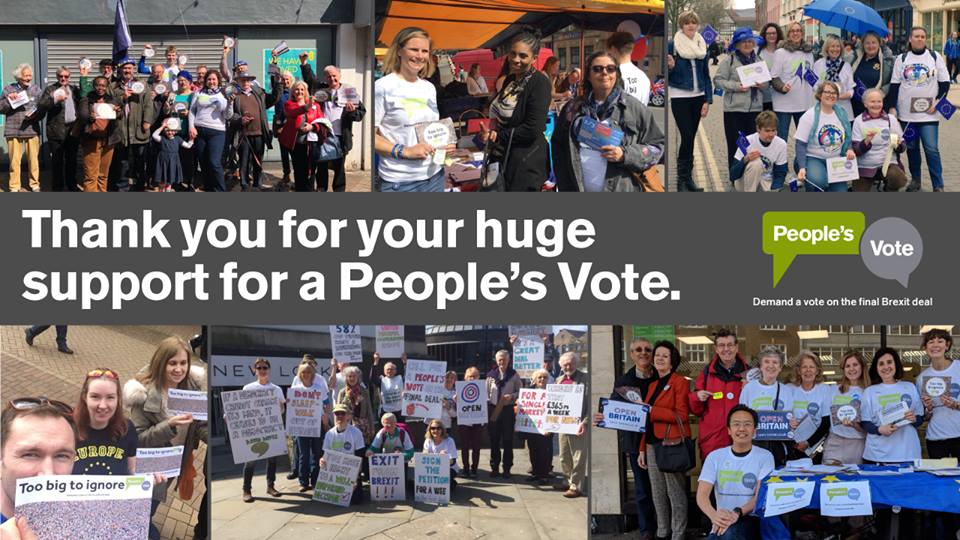 "Bremain wholeheartedly supports the call for a public vote on the Brexit deal, as we cannot entrust such an important decision to politicians alone. Any public vote secured must include the option to remain in the European Union."
"Having the final say on whatever deal Theresa May manages to secure is a option that appeals to both Leavers & Remainers alike. Many voted to leave the EU based on inaccurate & misleading information. The vision of life after Brexit promised by the Leave campaign is clearly undeliverable. People deserve the opportunity to change their minds, as the facts become clear."
The campaign will be very active over the coming months, and Bremain will be taking our part here in Spain.
Planned activities include a huge march and rally in Westminster on 23 June, the second anniversary of the referendum.
"There is already a growing demand for the public to have another vote. Recent polls suggest 8% more people are already in favour of a #PeoplesVote, & that was before the campaign even started. That demand is only going to increase, as more revelations about the damage that Brexit will do become more widely known. The public voted, very narrowly, to leave the EU, but the public are changing their minds, & deserve a chance to say so. Only another public vote can resolve the issue once & for all, & help to heal the divisions that the referendum brought about".
Bremain Press Release – Read it HERE
"Bremain in Spain's primary goal has always been to Stop Brexit. We believe that securing a vote for the British public is not only the most democratic course of action, but also the most likely to achieve our goal. First we must get more of the public behind us, then we must persuade MPs to make it happen. Once that goal has been achieved, the next step is to make sure that we win the vote. Do not believe the Brexiters when they say that Brexit is inevitable, unstoppable, irreversible. They are wrong about that, & we're going to prove it!"
Sue Wilson, Chair Bremain in Spain