Santiago Ayuso is home in Spain for Christmas and won't be going back to "exhausting" England
The following article appeared recently in El Pais and highlights the tragedy of Brexit from the perspective of a Spaniard living and working in the UK.
This year Santiago Ayuso, a 33-year-old schoolteacher from Madrid, is not just coming home for a Christmas visit. With more luggage than usual, he has decided that he is staying. After living in the English city of Bristol for more than five years, he says he is moving back to Spain because of the recent vote on the United Kingdom's membership of the EU, widely known as Brexit.
"When I woke up on the morning of June 24th, and saw that Britain had voted in favour of Brexit, it was the push that made me decide to leave the United Kingdom… I was disillusioned, devastated," he explains.
Ayuso left Spain in 2011, when the country's employment outlook was not promising. By the final quarter of the year, the jobless rate was nearly at 23%. The economic crisis drove him to become one of the approximately 200,000 Spaniards who had moved to the United Kingdom.
"Brexit created a strong feeling of fear and racism… it's an exhausting environment"
"I went by myself, without knowing anyone, to experience a new culture and to work. I also left because I wanted to do research and you have to admit that nearly all the well-known university essays that get published are written in English," he says.
UKIP, the Europhobic party led by Nigel Farage, aggressively campaigned against immigration and for greater border control, with the large number of immigrants from Europe living in the country seen as a "threat" by many of the Britons who voted in favour of Brexit.
"It's false! It's false what they say about foreign workers," Ayuso exclaims. "There's a contradiction in their discourse: they say that foreigners come to steal jobs and take advantage of the welfare state, but the typical profile of a foreigner looking for work in the United Kingdom is someone who is young and healthy, someone who has gone to university… they aren't going to be receiving many benefits from Social Security. On top of that, these people help sustain the economy and pensions, because they earn a good wage and pay taxes," he argues.
Ayuso was strongly opposed to Brexit, and even worked on main opposition Labour Party leader Jeremy Corbyn's Momentum Campaign, which fought for Britain to remain in the EU.
 This graffiti appeared on the wall of a school for Spanish children in London in June.
 When Ayuso first moved to England, he got a job as a waiter and worked on improving his English. Eventually he became a substitute teacher. Everything was going well: he had friends, a girlfriend, and he wasn't homesick. He was even considering studying for a doctorate at Cambridge University.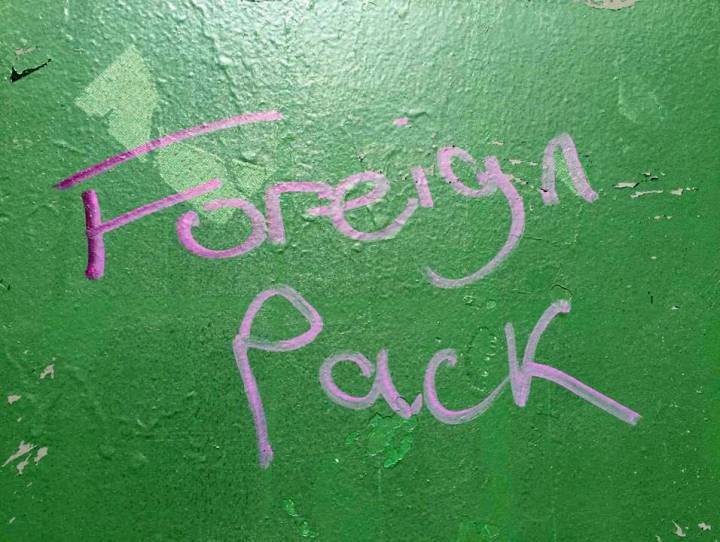 Despite watching what he considered to be xenophobic and racist speeches during the referendum campaign, "the straw that broke the camel's back" was when he saw that 52% of voters chose Brexit.
Despite the fact that in Bristol, where he was living, 61% of voters cast their ballots in favour of England remaining in the EU, Ayuso said that after the referendum he felt unwelcome in his adopted country.
"I was teaching a rugby class and I suggested to some lads that we play a game. One said to me, 'You bloody Mexican, your father is a dead man!' Of course I don't think the boy knew what he was saying but it's still disheartening. It means the adults legitimize this anti-immigrant feeling."
According to the British government, the number of hate crimes shot up by 41% to the end of July, compared to the same period in 2015. Ayuso said that his friends and other foreigners also experienced xenophobia.
"Some English guys started to harass my friends on a bus. They were drinking and chanting 'Brexit!' They said to them, 'Fucking Spanish, go home!' and said they shouldn't speak Spanish if they are in England. My friends had to get off the bus at the next stop. In the end it's created a strong feeling of fear and racism… it's an exhausting environment," he explains.
Ayuso worked on Jeremy Corbyn's Momentum Campaign, which fought for Britain to remain in the EU
Although Ayuso is back home, he does not think Spain is any better, but is excited to take part in "change."
He says that with Donald Trump about to be the new US president, populism creeping up in Europe, the radicalisation of countries such as Hungary and Poland, and fears over what could happen in France, he feels like he has to fight to defend his ideals. For now, however, he's passing out résumés to different schools and spending time with his friends and family.
"We're going to be all right, and I think here things will get better," says his girlfriend, as they enjoy the last rays of light illuminating Madrid's Puerta del Sol on a crisp December afternoon.
Published in El Pais December 29th 2016 – See the article and accompanying video
English version by Alyssa McMurty